Apr 29, 2010

Strategies for Helping Participants Practice Decision-Making, Compromise & Consensus Continued…A Method for Dividing Groups Into Teams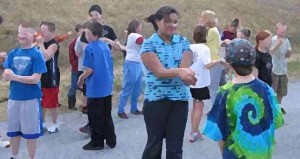 The Disappearance of Neighborhood Games of Kick-the Can, Part Two: Strategies for Helping Participants of All Ages Learn Through Play.
In Monday's post I mentioned that I had observed a trend of children and adolescents missing out the development of important social & emotional skills because of a lack of time for "free play" without adult intervention.
I believe we can intentionally bring some opportunities for this kind of peer-to-peer learning and conflict resolution practice in our structured settings such as school, camp, and other recreational programs. When I work with people of all ages in experiential team building programs I purposefully create situations/opportunities for participants to practice coming to agreement on the rules of the game, a team name, a team symbol etc. I use methods that involve pairs and then groups making simple choices together and work up to practicing consensus.
Here is one of my favorite simple strategies for helping learners of any age practice these important skills:
Which one? Partner Decision Making Method for Dividing Into Teams: This activity came from my time teaching in Stevens Point, Wisconsin School District's Experiential Education program. I started getting bored with the old counting off "1-2" method of dividing students into teams or groups for a project or activity. I discovered through experimenting with this new method that I had found a fun and engaging way to divide into groups or teams for an activity or classroom project while at the same time helping participant's practice communication, decision- making, consensus, making a compromise with peers.
Directions:
Have everyone find a partner.  In many situations a student will often pick a buddy you would rather they are separated from. This is fine, even preferable, because they will be splitting up soon. This method of dividing honors their need to partner with a friend because it gives the friends something to do together before they split up.

Present a hypothetical situation with two choices.For example: "Imagine it is summer and the two of you are near a river. You want to play on the river, but the only boats available are a kayak and a one-person canoe. Which one of you will take the kayak, and which the canoe? Or: You are at an ice cream stand and the freezer has broken down, there is only one cone of chocolate, one of cookie dough. Who gets which?Cookie dough's become one team, chocolates the other. Other scenarios I have used: cotton candy flavors, roller blades or skateboards, toboggan or saucer sled etc.
Over the year's I have noticed that kids of all ages have bought into this method of dividing teams without "pre-arranging" themselves the way participants often do with the old 1,2 count off method. I think it could be because they get to have the connection with their friend first- you are honoring their need to pair with who they are comfortable first before sending them apart.It can be surprising how intense the discussions and negotiations around these imaginary decisions can be!
Many educators have shared with me that they have appreciated this simple exercise for helping practice and reinforce conflict resolution, positive decision- making and the idea of compromising-coming to consensus. Adult participants share that they enjoy the sense of connection and humor from sharing and making decisions about these hypothetical scenarios.
Reference: Tips & Tools for the Art of Experiential Group Facilitation. Jennifer Stanchfield, Wood 'N' Barnes Publishing 2007
Middleton School District Experiential Education Curriculum; Jennifer Stanchfield, 2001