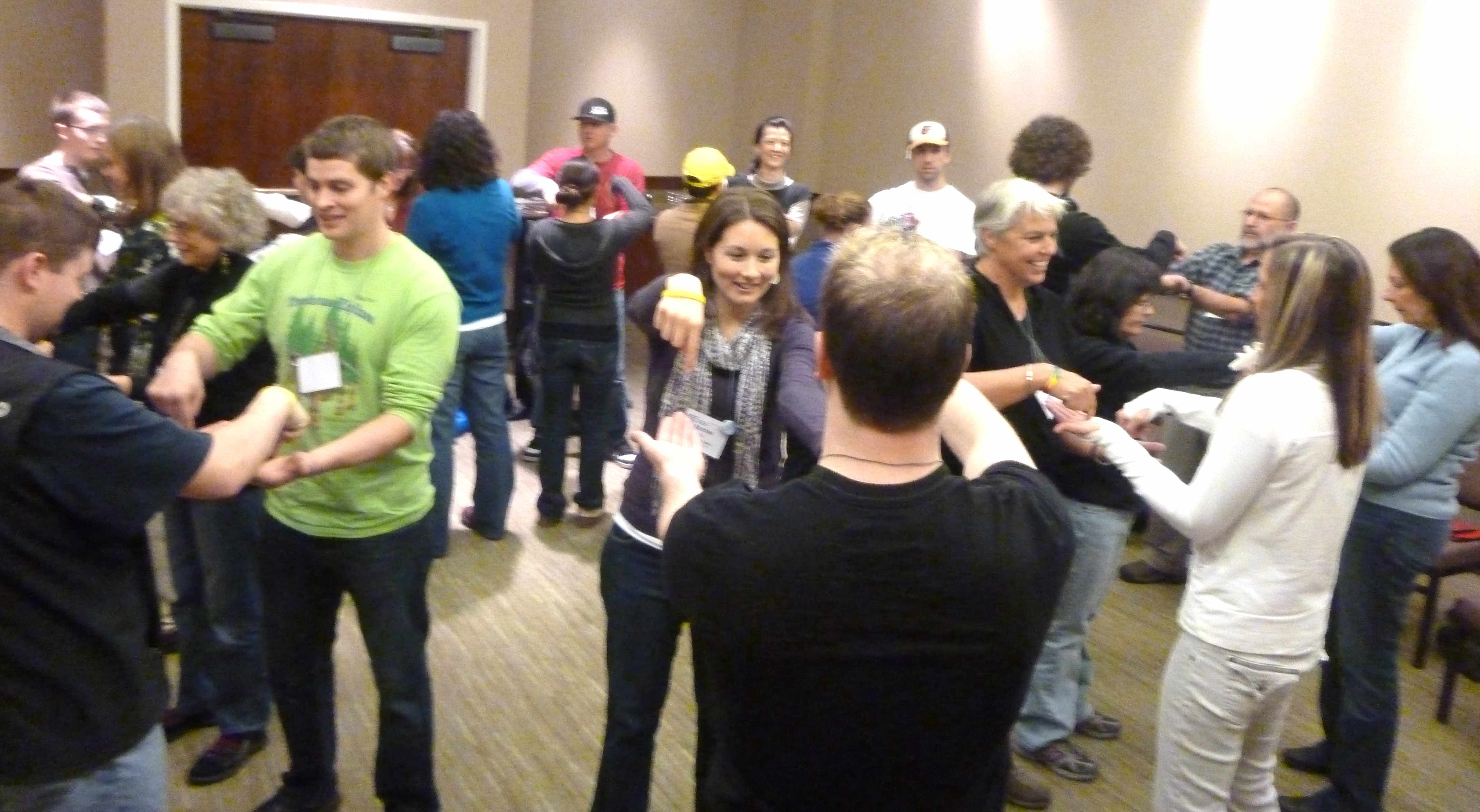 May 07, 2012

Activities to Get Them Moving, Talking, Reflecting, and Keep Them Engaged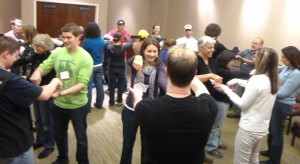 I am passionate about helping teachers and group facilitators blend information from the field of educational neuroscience and experiential learning principles into their practice. These fields offer important insight into how people learn best helping educators increase participant engagement, buy in, and retention in classrooms, training sessions, team-building programs and therapeutic groups. Current brain research validates the experiential education philosophy that educators will increase attention, motivation, and learning outcomes when they weave in opportunities to get learners away from their desks or boardroom tables and move, interact, discuss, and reflect with their peers.
Many educators and group facilitators have a number of great "introduction" activities they regularly use to build rapport at the beginning of a program or school year. In recent posts I have explored how these "ice-breakers" or "group-builders" can be upcycled as active review or reflection activities throughout a program or classroom lesson.
Here are some of my favorites pulled from the "Inspired Educator Archives":
One of my "tried and true" methods for actively engaging a group in dialogue and reflection about a lesson or experience is Concentric Circles. I was first introduced to this activity many years ago as an ice-breaker facilitated by my friend Hutch Hutchinson (Cain, Cummings, Stanchfield, 2005). I have repurposed it over the years as a reflection and review activity with great outcomes. Concentric Circles works especially well for large groups and in classroom situations.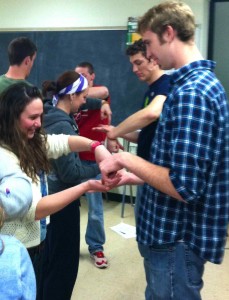 In this activity the group is divided in half, and two circles are formed, with the participants facing each other in an inner circle and an outer circle.
The participants are asked to greet each other and then converse about the topic at hand. You could have very specific questions about the material prepared for the partners to discuss. You might also initiate a less structured conversation inviting participants to share their reactions to, or key takeaways gleaned from your lecture, or in the case of a team-building session, the group's experience.
If you are discussing current events you might have the inside circle represent one point of view and the outside circle another.
Depending on the group, I sometimes incorporate a fun partner cooperative activity such as "finger fencing" or "gotcha" or "one handed, partnered shoe tying" prior to the reflection or review discussion. This brings a little fun into the classroom or boardroom and helps participants create social connections (another brain-friendly method of teaching).
After completing the partner activity, participants are asked to share their thoughts about the group experience, lecture, lesson, or reading. One teacher I work with started to use it in her language arts class. She had the inside circle take the perspective of one character in a play and the outside circle another, and then asked them to answer questions "in character". My colleague Marci Charles shared that she used this method to increase inter-department communication in a corporate team-building day. She had the administrative team form the inside circle and the IT team form the outside circle for a reflective discussion on company communication.
After a few moments, or when … to read more click here.
 
Another more playful variation of this partner dialogue activity is the "Handshake Mingle". It has been one of my favorites since learning it as a community building activity 10 years ago from my colleague Aimee Desrosier Cochran. I have successfully adapted it as an engaging reflective activity by adding questions and dialogue to the handshake greetings (Stanchfield, 2007). It has stayed a top go-to in my repertoire because it works with groups of all ages and backgrounds!
 
Handshake Mingle

This activity is great for introductions, reviewing names, and helping a group become comfortable with each other. It also works as an active processing/reflection activity to start group dialogue on a specific experience or academic topic.

Handshakes could be: high 5 or high 10 partner, low 5 Partner, fist bump fireworks partner, ankle shake partner, or fishing partner, among others. Let participants help you come up with new handshakes. They will likely have a full repertoire! In the U.S. handshake greetings have become part of pop culture.

A variation is to combine the handshakes with "get to know you" questions, with discussion around introductory objects or quotes (see Strong Beginnings post), or later in a group's experience with reflection or academic review questions.

Directions:

First, have everyone find a partner and give each other a high 5. Have participants recognize this person as their high 5 partner
Next ask them to find another new partner; this is their "fist bump partner"
Have them go and find their High 5 partner, then their fist bump partner, moving amongst the group to find those original partners.
Continue this sequence, adding on with new partner activities as appropriate. You will witness laughter, positive interaction and fun. Participants really will remember their partners and their conversations.
Some of my favorite handshakes are fishing partners (one is the fisher with reel/rod and the other the fish) and ankle shake partners. I like to have fishing partners share a fishing story with each other. When I use it as a closing activity I might have fishing partners share a key learning they are going to take away from the experience.
Have participant's help you come up with new handshakes, or present their own. I have integrated participant's creativity with "rock on" partners, "butterfly" partners and "pop a wheelie" partners. Allowing participants to come up with handshakes enhances ownership and involvement.
For a deeper introductory activity, or a kinesthetic reflection or review mix get to know you questions or sharing of quotes, or reflective questions into the exercise. For example with your high 5 partner you might state: "A high 5 is a celebratory gesture: share something that has happened at school or work recently that is worth celebrating".
Later on you can use these partners to form groups. As a closing at the end of a class or program have participants go through this sequence and revisit their partners to reflect on their thoughts regarding a lesson. For example, when using this as a closing activity you might have high 5 partners share something from our program that was worth celebrating, or a highpoint for them.

 
Facilitation Tips:

Use handshakes that are appropriate for your group taking into consideration age, space, social atmosphere and setting (but don't be afraid to experiment!). Have participants make up their own.
Even more introverted or "too cool for school" group members "buy in" to this activity. Probably because it starts with familiar and simple greetings like high 5 and low 5, it moves quickly, and everyone is doing the activity at the same time. No one person or pair is in the "spotlight". Also, individuals can participate at their own pace or comfort level. If they want to opt out of a handshake or adjust it they easily can and still participate.
This can be used multiple times with a group. First you might introduce this as a community building/ice breaker. Later on in a group's time together you could use it to reflect on specific questions/ academic content.
Recent research on the brain demonstrates that engaging in appropriate touch such as handshakes is important for social and emotional learning and attention (release of dopamine and increase of brain activity).

 
Whether you are an adventure educator, a primary or secondary classroom teacher, a college professor, corporate trainer, or counselor, you will find that incorporating movement into your presentations and reflective group discussions will increase participant engagement and potentially help learners better retain and synthesize information from your lessons. Look for more ideas to keep them moving, talking and reflecting in upcoming posts.
 
References:

Medina, John. (2008). Brain Rules: 12 Principles for Surviving and Thriving at Work, Home and School. Seattle, WA: Pear Press.

Ratey, John. (2008). Spark: The Revolutionary New Science of Exercise and the Brain. New York: Little Brown and Company.

Sousa, David. (2006). How the Brain Learns. Thousand Oaks, CA: Corwin Press.

Stanchfield, Jennifer (2007). Tips & Tools: The Art of Experiential Group Facilitation. OKC, OK: Wood 'N' Barnes Publishing

Willis, Judy. (2006). Research-Based Strategies to Ignite Student Learning. Alexandria, VA: ASCD.www.radteach.com (Judy Willis' website)