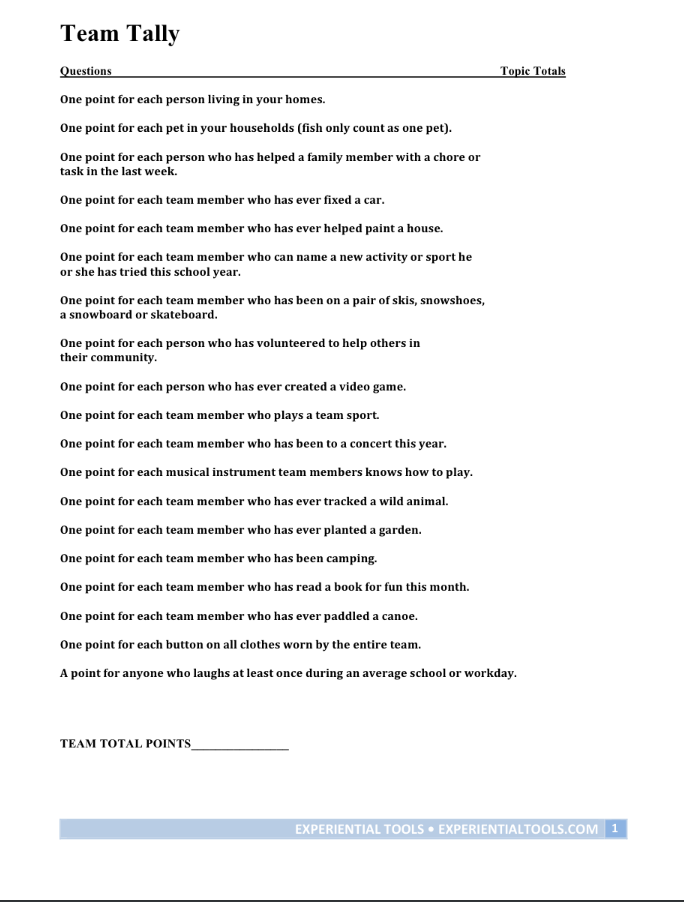 Aug 29, 2013

Team Tally: A Simple Group Building and "Get to Know You" Activity

It's time once again for back to school and fall program kick off. Here is an activity that is perfect for building rapport in new groups coming together for the first time, or for exploring commonalities and group building in existing groups of all kinds.

Team Tally

This group commonalities questionnaire serves as a "get to know you" or group celebration activity that involves friendly competition between teams of students or colleagues. Groups talk through questions about their interests and experiences and come up with a cumulative score based on their group's commonalities. This activity helps participants learn more about each other, engages them in healthy competition, and is very self-directed. A facilitator can involve their group in this self-directed activity during transition times when they need to attend to administrative tasks or room set up/preparation.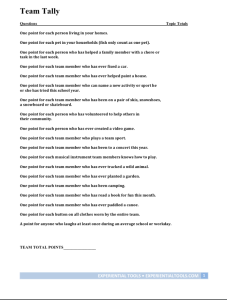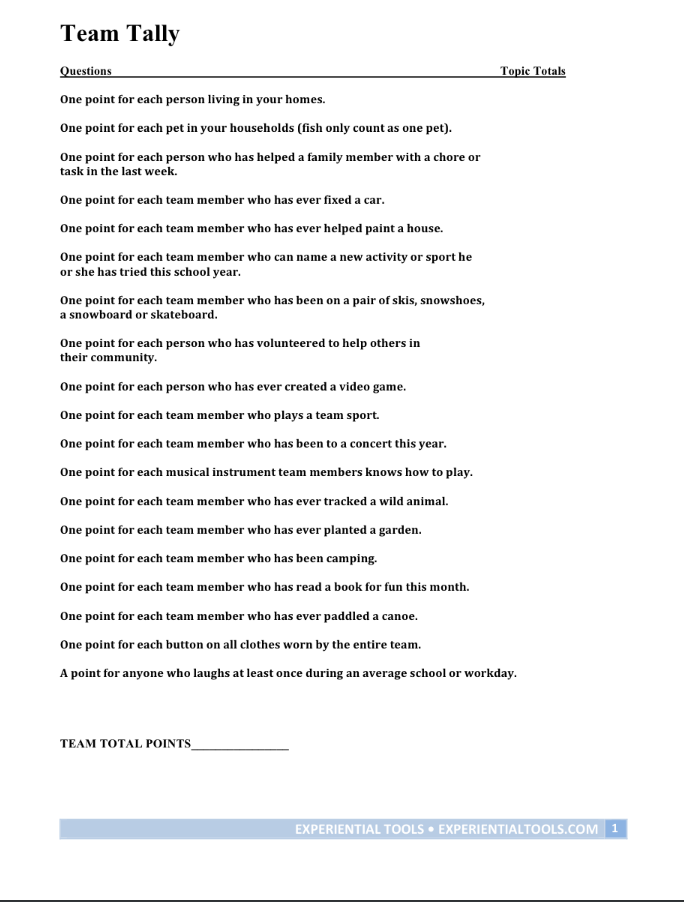 I use variations of this activity with students, with school faculty, adult team-building programs, in family night programs, and afterschool. A number of schools I work with now use this activity in their advisory programs and compete between advisories for the high score. This activity also works well for transitions in after school programs to keep youth engaged during transitions such as gathering time and snack time. This activity is especially useful during this "back to school" and fall program kick off season. In this post I have included an example of one that I use throughout the year with various age groups. In my next post I will share one I put together for student and faculty groups returning to school this week.
Focus Skill Areas: Rapport, Community Building, Communication, Commonalities, Reflection, And Healthy Competition
Directions:
Divide participants into teams of 4 or 5 depending on the size of group (try to make even teams).
Each group uses the Team Tally Sheet to come up with a cumulative score on each of the commonality areas.
The team with the most point's wins (if your groups are uneven have them divide the total scores by number of team members).
Fish only count as one pet? Have the group come to consensus about the parameters of some of the questions. I have fun conversations here in rural Vermont about whether chickens or cows count as pets.
I always go around and have each group share and celebrate their high scorers. The value in the activity is the sharing about commonalities.
You can easily change the questions to fit the age group/population you work with.
 To Download a PDF click here:
TEAM_Tally
Outcomes: Both the youth and adult groups I work with really enjoy this activity. The combination of sharing, competition and collaboration draws learners in. I find that people make interesting connections with peers out of their usual social circle through this activity. In one high school classroom I saw two students who usually did not get along well connect over a discussion they shared about whether they should count the members of two households in the tally. Both were struggling with recent divorces in their family and shuttling between two houses. This activity initiated a discussion and a bond over this similar circumstance that continued throughout the school year. In the rural area where I live participants make commonality connections around farming (arguing how chickens or cows should be counted). Adjust the questions to fit your group's personalities and goals.
 For a "Back to School" specific version of this activity click here.  For a variation focused on Academic Content click here.
References: This activity was inspired by Karl Rohnke who put together a similar teacher teambuilding worksheet focused on common teaching experiences he called "Yeah Teachers" for a program we facilitated together. Over the years I have adapted the idea more broadly to groups of all ages. Funn n' Games 2004 Karl Rohnke, Kendall Hunt Publisher.