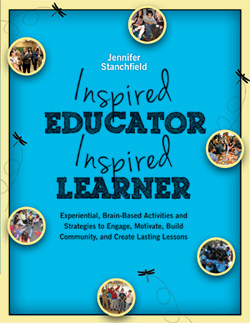 Nov 22, 2014

New Book! Inspired Educator, Inspired Learner

Inspired Educator Inspired Learner: Experiential, Brain-Based Activities and Strategies to Engage, Motivate, Build Community, and Create Lasting Lessons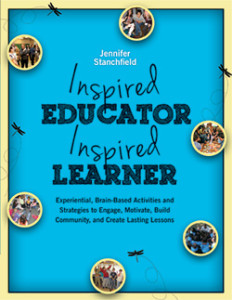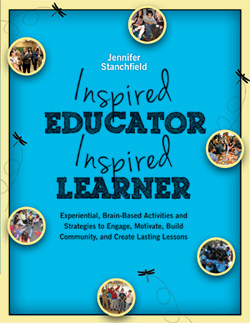 I am thrilled to announce the release of my new book Inspired Educator, Inspired Learner published by Wood 'N' Barnes Publishing Company. The book explores experiential, brain-based techniques for engaging learners of all ages emotionally, physically and intellectually in academic or training content while practicing important social-emotional skills and building a positive, productive, and supportive learning community.
It is my hope that educators will find both inspiration and creative strategies to differentiate instruction and cultivate 21st century learning— methods that will get participants moving, talking, reflecting and keep them engaged with multiple pathways to learning, reviewing, and synthesizing lessons. Throughout the book I offer a variety of reflective techniques to increase relevancy, meaning, depth of understanding, and create connections between educational experiences and real life. The book was designed for educators from a variety of settings from K-12 classrooms, to college student life programs, to adult education and training.
Here is what readers are saying about Inspired Educator, Inspired Learner:
"For years, Jennifer Stanchfield has shown an avid interest in modern brain research and how it applies to what educators and learners do together. Here she has brought together cognitive science, neuroscience, and education to achieve a synthesis that will intrigue many teachers." —Sam Wang, Associate Professor of Neuroscience, Princeton University
"… a go-to handbook that is extremely readable and user-friendly. The research cited gives it a strong backbone. It's not a "pie in the sky" book, but one that actually backs up ideas with specific strategies." —Colleen Barrett, Middle School Teacher at Crossett Brook Middle School in Waterbury, Vermont
"Inspired Educator, Inspired Learner is inspiring! A helpful synthesis of some of the most important principles, trends, and practices education now needs to help all students be successful in the 21st century." —Bernie Trilling, 21st Century Learning Advisor, co-author of 21st Century Skills: Learning for Life in Our Times
"My most engaging and powerful lessons and activities come from Jennifer Stanchfield. Now, all that powerful wisdom is in ONE book. This is a must-read for emerging AND veteran teachers who want to empower students' creativity and deepen engagement and understanding in the classroom." — Heidi Pauer, 2003 New Hampshire English Teacher of the Year
"Critical, complex concepts like social-emotional learning and 21st century skills development are made practical and approachable when framed with an experiential learning lens. Educators and trainers can bring learning to life with this array of useful activities." —Kara Bixby, Manager of Research & Evaluation, Saint Paul Public Schools Foundation
"… meaningful games and classroom activities that synthesize many of the best practices. When you need an idea for tomorrow, philosophical food for thought, or research for your next unit, this is an exciting book for an educator." —Neil Poynter, Teacher/Advisor at The NET Charter High School, New Orleans, Louisiana
Find the book here or at your favorite bookstore. For distribution information or for desk copies contact Ramona Cunningham at Wood N Barnes publishing at mony@woodnbarnes.com.