Aug 24, 2017

Setting the Tone, Building Community, and Initiating Reflective Discussions: Pair Share Ideas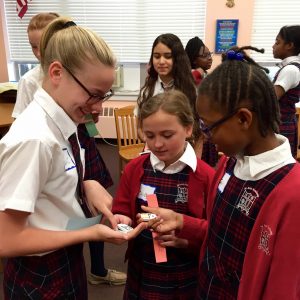 August is a month of new beginnings for educators and group facilitators. These last weeks of summer are filled with back to school meetings, training, student community building, and fall program kick-off events. Many educators ask me for ideas for making the most of this time of year, so I am pulling together some of my favorite past blog posts and excerpts from my books with back to school, community building, ice-breaking, meeting facilitation, and context setting activities.
My last post focused on ideas for making the most of the first few minutes for a program or class with "hook," welcoming, or "first five" activities. The next step is beginning the process of building rapport and relationships and initiating reflective dialogue between group members.
Here is an excerpt from the Tips & Tools for the Art of Experiential Group Facilitation Second Ed. with some favorite strategies for starting off with small group and partnering activities – a nice alternative to beginning with whole group go-arounds. Many participants report to me that they feel much more engaged and bought in when they have the opportunity to "warm up" with partner and small group activities before being asked to introduce themselves or speak to the whole group.
Introductory activities set the tone for the rest of the program or school year. Carefully choose activities that build rapport and trust in incremental ways. This foundation will allow you to engage participants in meaningful and sometimes challenging activities, foster more responsibility and control over learning, and increase each participant's ability to move learning forward.
This rapport-building step is important for both intact groups and groups coming together for the first time, and it unfolds differently with each group. For a group that has been together a long time, this piece of the program might be less about getting-to-know-you and more about promoting reflective dialogue and readjusting group norms. This time spent up-front might be even more important for those intact groups that need some positive re-invigoration and reframing around how they interact with each other.
The following activities and strategies not only build rapport, but they can also double as reflective partner conversation activities and brain-based methods to encourage participants to reflect upon review and discuss academic or training material or topics in advisory or other groups. These activities are social and active and involve talking, listening, and making emotional connections to the material—therein promoting engagement and multiple pathways to learning (using multiple senses and therefore maximizing different storage areas in the brain). If you add the symbolic and metaphoric methods mentioned in previous articles (i.e., images/ objects), you are potentially activating even more areas of the brain as the group moves, connects, and discusses.
Object Partner Match Up
As mentioned in previous posts, objects can draw participants into an experience. Using a prop based activity as a tool to help participants first find partners or small groups for partner activities and sharing is not only engaging, but it facilitates a sense of comfort and choice and control within these initial warm-up activities.While I am facilitating entry tasks such as the quotes, conversation starter buttons or postcards, I usually also hand out or let participants choose a playing card or domino. Just being handed a domino seems to create interest and intrigue around what is coming next.
For a first activity, or as a pre-group activity while I am waiting for late-comers to arrive, I invite participants to find someone in the room whose domino matches theirs in some way. To weave in a sense of choice and ownership, I am careful to say, "You can choose or interpret what matching means." Or, if I am using the playing cards, I might say, "Find someone within your playing card suit." Both of these methods and the way I frame them with flexible directions, give people an aid in reaching out to someone new, and at the same time, a choice as to whether or how much they want to push their comfort zone.A more reluctant group member can find a way to match the person right next to them if they aren't feeling ready to move across the room and introduce themselves to someone new. The extroverts happily mingle with many people till they've found a perfect match. I've found this simple choice at the very beginning helps everyone feel engaged, welcomed, and "met where they are." The more introverted or reluctant group members buy in, because it's low-risk and gives them options rather than forcing them and the way I frame them with flexible directions, give people an aid to push their comfort zone right away. After this initial empowerment of choice for the first partnering, these participants almost always reach further out on their own for the next partner or small group.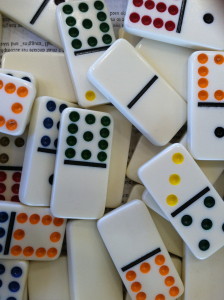 Domino Match Ups
Materials: Dominoes, enough for every person to have one. Make sure there are a variety of potential matching options.
Facilitation Suggestions
• Hand everyone a domino as they enter the room, or lay them out with your other "entry task" or hook activity. (I am amused by how excited participants of all ages are to receive a domino—in this era of digital games they are a novelty).
• Ask participants to find a partner or partners whose domino matches theirs in some way. As mentioned above, I emphasize that they decide what matching means.
• Have partners discuss a get-to-know-you question, reflection question, or integrate it with your hook activity.
• This activity is a perfect lead-in to the interactive, partner-based icebreakers I've shared in past posts because they now have a "first partner" established.
• You can also form small groups by having these partners find another set of partners who match dominoes with them.
Thank you to Sam Sikes for inspiring the use of dominos through his Omnibod activity.
Playing Card Variation
Playing cards are another versatile tool for creating partners, small groups, and teams. One set of carefully sorted cards to match the number of people in your group can offer many options for mixing up the group for pair sharing and small group reflective conversations as well as teams for activities later in the school year or program.
For an initial partner pair share, ask participants to find someone within their suit. This gives them a tool to reach out and find a first partner along with some choice within that structure. Be more exacting and have them find someone who has the same number or face card they do—a perfect method for dividing into groups of four. Dividing them into suits creates four groups, or ask them to find straight or flush orders. Playing cards offer multitudes of options.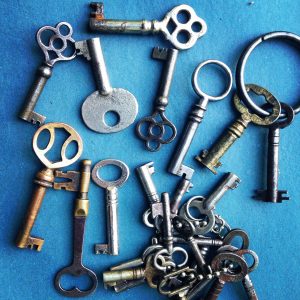 Key Blank Partners
A few years ago at the beginning of school, I was trying to find a new way to engage middle school students in a dialogue about the "keys to making the school year a success." I purchased a bunch of key blanks at the hardware store—two each of the same shape/color—to use as a way for students to find a partner. We talked about possible "keys" to making their classroom constitution work and their personal commitment to creating positive group norms to make the year a success. We used the keys to pair them up and asked them to reflect on their commitments to the group. At the end of class, I invited them to keep their key as a memento.
Puzzle Groupings
A school principal asked me to help him facilitate a "vision setting" meeting with his staff. He wanted the group of 40 faculty to work on their school's action plan, beginning the process in small groups. He asked me to help create diverse groupings of educators from different areas of school in an effort to break up the cliques of faculty that always sat together during staff meetings. Five teachers had some training on action planning, so he wanted one of them in each group. He was reluctant to assign groups and risk having the faculty resent being divided from their usual partners and/or feel that he was showing favoritism by selecting the five trained teachers to lead the groups. He was looking for a technique to help him with this conundrum.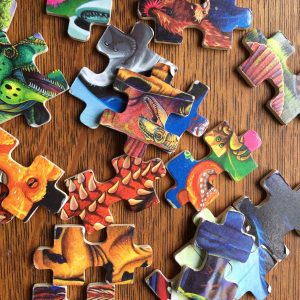 I purchased a "sea creatures" puzzle designed for older elementary students from a toy store. There were five sea creatures depicted with fairly large puzzle pieces. I pulled the creatures from the background of the puzzle and took the centerpiece of each sea creature out. The rest of the pieces I laid out on a table next to the coffee and cake being served at the meeting. I put the five center pieces in my pocket and made sure to stand by the door and greet everyone as they arrived. As participants entered the room I said, "When you head over to get a snack, you will notice that there are puzzle pieces on the table, grab one." When one of the five trained teachers came in, I said the same thing, but casually added, "Oh, I have one right here," and handed them one of the center pieces. This process unfolded over about ten minutes as everyone gathered, so no one noticed I handed off five of the pieces. I then asked everyone to mingle and find others in the group whose puzzle pieces were part of their creature. This gave everyone a chance to visit in a playful way for the first few minutes of staff meeting, and we ended up with diverse groups, each with one of the teachers experienced with action planning. When random pairings are created using objects, participants are more open to being paired with someone outside their usual social circle. As the facilitator you can discreetly arrange certain pairings if needed by subtly handing paired items to selected individuals.
No Prop Match Ups
Though I've emphasized the novelty and interest that props provide, sometimes facilitators simply don't have access to them. Here are just a few no-prop options that can help group members match up to
find a partner. Use your creativity; the possibilities are endless.
Sole Mates: Simply ask participants to look at the bottom of their shoes and find someone whose shoe soles match theirs in some way.
Arms Crossed: Ask participants to cross their arms over their chests.
Then have them look around the room and choose a partner who has a different arm on top.
Birthday Seasons: Ask everyone to find someone whose birthday is in the same month/season of the year.
References:
Sikes, Sam (1998) Executive marbles and other team-building activities. Richmond, TX:Learning Unlimited Inc.
Stanchfield J(2014) Inspired Educator, Inspired Learner: Experiential, Brain-Based Activities to Engage, Motivate, Build Community and Create Lasting Lessons.