Feb 01, 2018

Tips for Facilitating Meaningful Reflection

The Art of Facilitating Reflection: Excerpt from Tips & Tools for the Art of Experiential Group Facilitation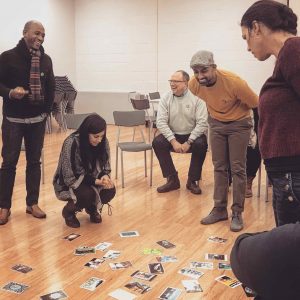 These tips will help you create an environment that encourages involvement in meaningful reflection and discussion.
• Reflect throughout the experience. Reflection can we woven into an activity itself, or intentional reflection time can be taken in the midst of the activity or lesson to maximize learning outcomes.
• Take advantage of transitional times such as breaks, meals, and traveling from one place to another to weave in opportunities for reflection.
• Remember that everyone doesn't have to hear the report out for meaningful reflection to take place. Offer different kinds of opportunities for participants to reflect including self-reflection, partner share and other strategies besides the whole group sharing circle.
• Consider the physical environment and be cognizant of possible distractions: temperature, time of day, seating, etc. Create a space conducive to group discussion.
• Allow group members to pass during discussions. This empowers them to have control over their learning and practice sharing at their own pace. When participants are given the power to pass, they learn to trust the facilitator and group and often end up offering a great deal to the group at their own pace.
• Remember that reflective discussions take practice. They will become more meaningful and rich as time goes on.
• Know that silences are okay. They are even necessary. Allow group members to think and formulate their ideas before rushing on to the next topic. Participants can be experiencing valuable reflection even if they don't share it with the group.
• Be prepared for group members to take discussions somewhere different than you had in mind. You might learn something new! Be prepared to artfully help individuals navigate back to the present moment in order to meet the needs of the group.
• Mix up your methods. Variety is not only the spice of life but, according to scientific brain research, novelty (and the use of different learning tools and methods) facilitates learning.
• Take time to reflect on your own practice. This enhances learning, i.e., what works and what doesn't, and helps us see the benefit of our programs.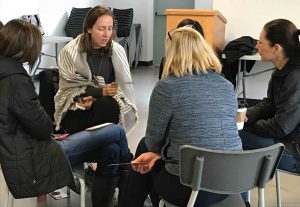 • Give control to participants; do not force your agenda on them. Be flexible. Let them take responsibility for their learning and their interpretation of an experience during group discussion.
• Use open-ended questions. Summarize or restate what was said, or, even better, have a group member restate it.
• Be thoughtful about how you end a program or day's experience. Closure is important. Think about what you want the participants to take with them. Carefully design a closing activity to tie their learning together and encourage future learning.
• Never forget the importance of humor, but remember the difference between humor and sarcasm.
• Be attentive to when it is time to move on, even if you have to let go of some of your facilitation goals for the discussion.
• Give responsibility to your group. When questions come to you as the facilitator, try to direct them back to the group, allowing group members to help each other.
Excerpt of Tips & Tools for the Art of Experiential Group Facilitation, Second Edition
© 2016